Transform the lives of older people in your local community
Everyone at My Care Solution is united in their dedication to making a real difference to our clients and their families. Join one of South Australia's fastest growing care providers and be part of a team that delivers over 8,000 hours of care a month to older people in the place they feel the happiest – their home.
What makes us different? We provide our Caregivers with the time they need to really care, and we take time to match them to clients who we feel they will get along with. With minimum 1 hour visits, regular client bases and opportunities for career development, My Care Solution can provide you a career that makes you feel empowered, valued and supported.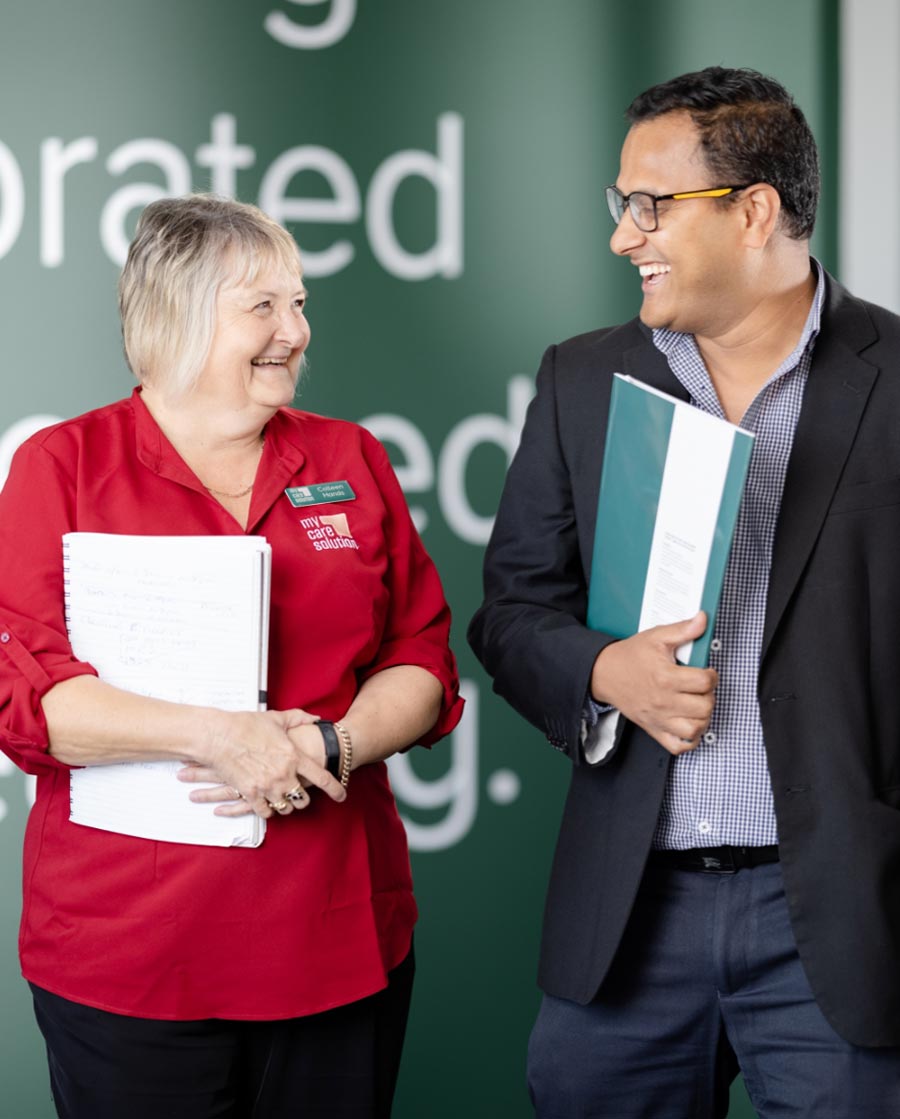 The role of a My Care Solution Caregiver is highly rewarding and strongly backed by industry-recognised training, opportunities for career development and 24-hour access to a dedicated Client Care team for support.
My Care Solution is a South Australian family owned and operated provider of premium in-home care and support for older people.
Our Caregivers deliver a range of in-home care and support services to older people living in Adelaide, Victor Harbor and surrounding areas.
Services range from basic support such as personal care, social support, housekeeping, meal preparation and assisted transport, all the way through to more complex support such as overnight care, dementia care and palliative care.
In most cases, client visits will include a combination of these services and, as such, our Caregivers are expected and supported to deliver our full range of care services.
At My Care Solution, our strength lies in the people we recruit, train and professionally develop. We offer many great opportunities and benefits to support and inspire you in the work you do.
Training and development: In addition to regular on-the-job training, My Care Solution is committed to the ongoing development of its staff. We offer a range of specialist training seminars to staff who are seeking to expand their client base and skill set. From the Montessori for Dementia Framework through to Palliative Care in the Home, our Caregivers are never short on opportunities to grow.
24-hour support: Our dedicated Client Care team are a call away when you need them. This is particularly helpful for Caregivers delivering overnight care and visits outside of normal working hours.
Flexibility: My Care Solution offers flexible working hours so that staff can balance work and personal commitments. We simply request regular availability of at least four days a week so that we can help you effectively build your client base.
The essentials: All Caregivers must be legally entitled to work within Australia and hold, or be enrolled in, a Certificate III in Individual Support in Aged Care or a related field. Caregivers must also have a National Police Clearance, a full Australian Driver's Licence and a vehicle in good, roadworthy condition.
You are humble. You understand that every older person has lived a full and meaningful life, and you connect with them as a person – not just a client in need of care and support. You are modest and natural in your approach to care and you are always learning and seeking to do better.
You are joyful. You are a happy person who lights up a room and you love to have a laugh. You're warm, kind, friendly and approachable, and you delight those who are around you.
You are reliable. You do what you say you will do, and you can be depended on to ensure everything that should be done, is done. You understand that this role entails showing up on time, every time, and that your clients rely on you to work diligently.
You are observant. You have an exceptional eye for detail and can pick up on minor changes in the physical and mental health of those around you. You understand the importance of taking note of these changes and never dismissing them.
You are compassionate. You believe that everyone should be treated with kindness and compassion, and you take a genuine interest in every client you have the pleasure of working with.
You are responsive. You are a good listener, flexible, approachable and adaptable, and you're quick to act. You understand that the changing nature of in-home care requires you to communicate quickly with staff.