Stay connected with social support services
We understand the importance of keeping in touch with your family, friends and the community. We also understand that it can become more difficult to get out and about as we age. My Care Solution provides social support services to help you live independently and remain socially active.
My Care Solution can deliver a range of social support services that are tailored to your social needs and preferences. You may wish to get out and about with a caregiver, visiting your favourite café or attending a community event. Otherwise, you might prefer to spend your time at home, chatting with a caregiver over a cup of tea.
My Care Solution also hosts the Community Club which offers a comfortable environment for clients to form new friendships. The Community Club offer a range of fun activities such as arts and crafts, music, guest speakers and outings.
Getting to know you and what is most important to you is at the heart of our social support services. Your dedicated Client Care Coordinator will seek to understand your hobbies, interests, goals and culture before creating your care plan. The My Care Solution team is always here to assist you in remaining socially connected in the ways that are important to you.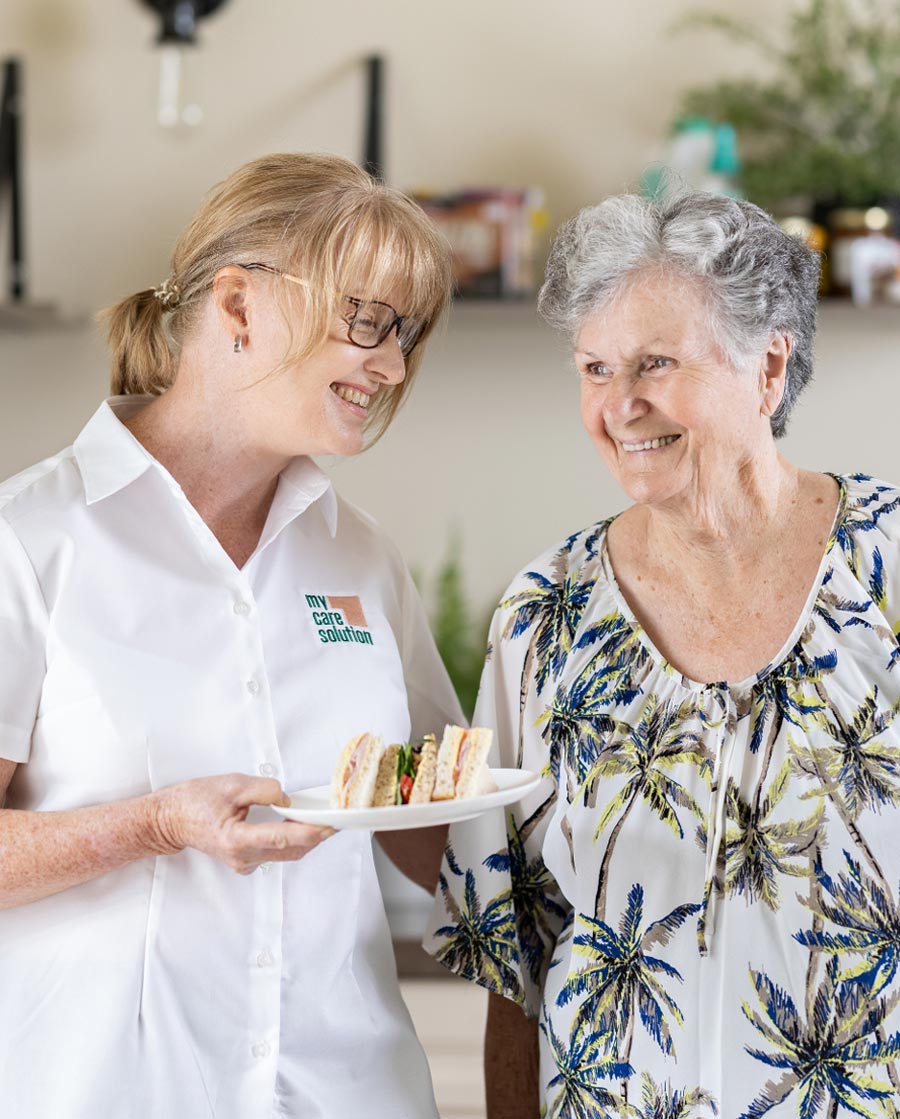 Social support and companionship services
Providing assisted transport, accompanying you and providing personal support along the way are all part of our companionship services. Our range of social support services can include:
Getting started with social support services
Becoming a My Care Solution client is as simple as getting in touch with your local office. A Client Care Coordinator will be paired with you, and your services can commence within 24 hours of contacting us.
Get in touch with us
Understanding your options for in-home care and support can be overwhelming.
At My Care Solution, we are your local in-home aged care experts, and we are committed to helping you make sense of it all.
Get in touch with our team and start the discussion about your home care journey today. We are available to talk to you 24 hours a day, 7 days a week.
If you live in Adelaide, call us on 08 8331 9922. If you live in Victor Harbor, call us on 08 8552 9840.
Prefer to contact us online? You can email us at info@mycaresolution.com.au or contact us via the website.
Meet a Client Care Coordinator
The next step is to book a free in-home care consultation. One of our highly qualified Client Care Coordinators will visit you to discuss your care needs and how My Care Solution can help.
If you choose to proceed with My Care Solution as your in-home aged care provider, the visiting Client Care Coordinator will be your very own. They will be your partner through your entire home care journey and help you manage every aspect of your experience.
Your Client Care Coordinator will take the time to find out as much as possible about you. We want to know about your interests, hobbies, lifestyle and goals so that we can match you to the most compatible care staff when your services commence.
Our care consultations are available 24 hours a day, 7 days a week. Book your consultation online or call your local office.
Start receiving your services
Your Client Care Coordinator will craft a tailored care plan and hand-select the most suitable and compatible care staff to deliver your services.
Did you know that My Care Solution is committed to continuity of care? Your care team will be small, nurse-led and meticulously selected to match your needs and preferences.
Now that you're on our books, you can receive as much or as little help as you need. Your Client Care Coordinator will be on-hand to help you arrange a schedule of services to help with your care needs.
Alternatively, you may simply wish to call us when you need us.
Get started with My Care Solution today