Professional dementia care at home
My Care Solution understand the importance of living at home, especially for those living with dementia. Our dementia care services are delivered at home to promote your safety and independence.
We have been at the forefront of dementia care at home since we opened our doors. All of our caregivers are trained in the Montessori for Dementia approach. This approach encourages mental and physical abilities for as long as possible. Our other best practice techniques have been shown to provide reassurance, reduce anxiety, and calm behaviour.
Our dementia care training does not stop there. Our caregivers receive ongoing mentoring based on the most up-to-date thinking and research. This guarantees that they have the knowledge and skills to provide quality dementia care in the home.
Your Client Care Coordinator will work closely with you to ensure that your services evolve as your needs change. This includes liaising with your small care team and other health professionals that are involved in your care. Additionally, our in-house dementia specialist is always on-hand to help you connect with other supports in the community. Our dementia specialist also helps families and carers navigate their way through the dementia care journey.
We understand that for people living with dementia, the introduction of some therapies can be beneficial. During the later stages of dementia, our caregivers are trained to integrate and deliver validation therapy. Validation therapy for dementia means entering the reality of a person living with dementia. This therapy allows our staff to connect with clients through listening and dignified care.
Other dementia therapies, such as music therapy and reminiscence, are also available.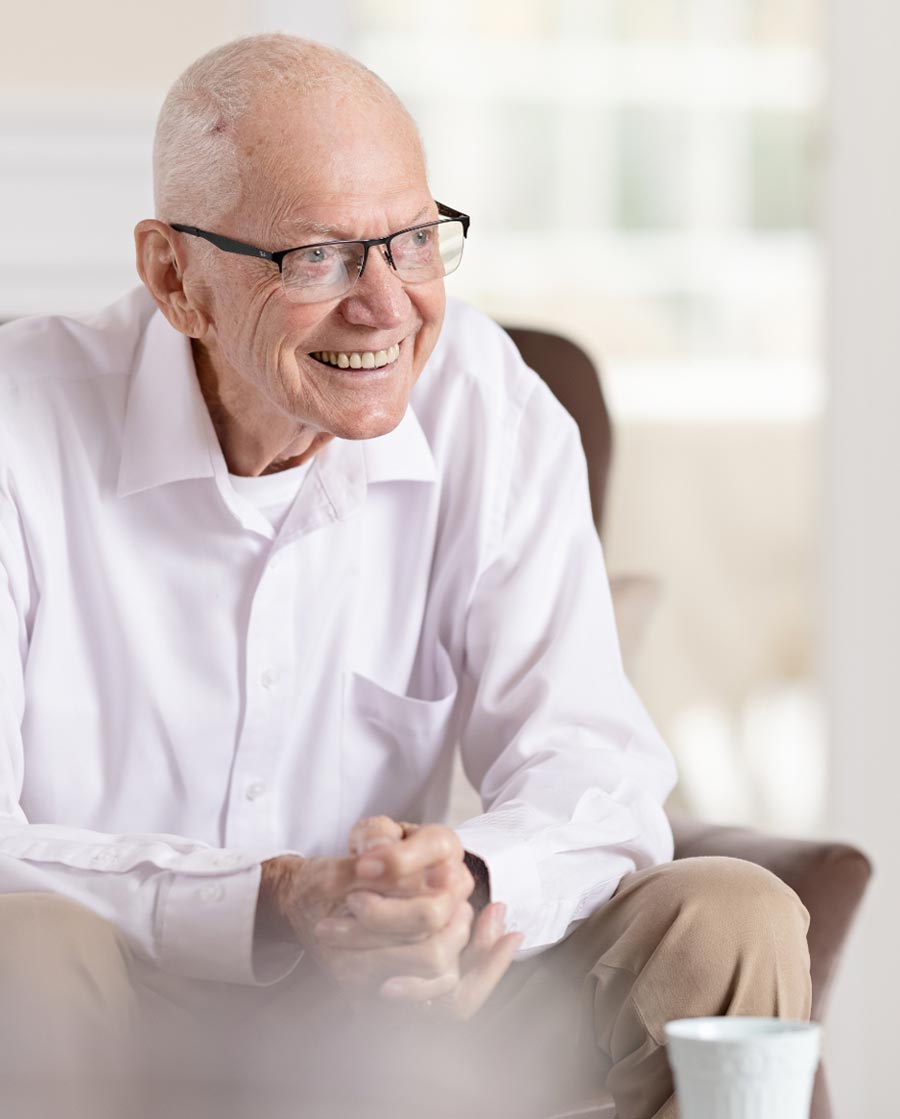 Continue living in the comfort of home
If you are living with dementia and wish to remain at home for as long as possible, there are services available to support you. As a My Care Solution client, you can access a range of services that are delivered by professionally trained caregivers:
What is the difference between dementia and Alzheimer's?
Dementia is a term used to describe a set of symptoms caused by brain disorders. It is not one specific disease. It affects one's ability to think, behave, and perform daily tasks. The person's brain function has deteriorated to the point where it is interfering with his or her normal social or professional life.
Alzheimer's disease is the most common type of dementia, affecting up to 70% of those living with dementia. The biggest risk factor for having Alzheimer's disease is increasing age, with three in ten people over 85 having dementia. The other most common types of dementia include vascular dementia, Lewy Body disease and frontotemporal dementia.
We recognise that no two people living with dementia are the same. Everyone experiences their dementia diagnosis differently. Therefore, it is important to find a specialist home care provider that can tailor your care and support to your needs.
Becoming a My Care Solution client is as simple as getting in touch with your local office. A Client Care Coordinator will be paired with you, and your services can commence within 24 hours of contacting us.
Get in touch with us
Understanding your options for in-home care and support can be overwhelming.
At My Care Solution, we are your local in-home aged care experts, and we are committed to helping you make sense of it all.
Get in touch with our team and start the discussion about your home care journey today. We are available to talk to you 24 hours a day, 7 days a week.
If you live in Adelaide, call us on 08 8331 9922. If you live in Victor Harbor, call us on 08 8552 9840.
Prefer to contact us online? You can email us at info@mycaresolution.com.au or contact us via the website.
Meet a Client Care Coordinator
The next step is to book a free in-home care consultation. One of our highly qualified Client Care Coordinators will visit you to discuss your care needs and how My Care Solution can help.
If you choose to proceed with My Care Solution as your in-home aged care provider, the visiting Client Care Coordinator will be your very own. They will be your partner through your entire home care journey and help you manage every aspect of your experience.
Your Client Care Coordinator will take the time to find out as much as possible about you. We want to know about your interests, hobbies, lifestyle and goals so that we can match you to the most compatible care staff when your services commence.
Our care consultations are available 24 hours a day, 7 days a week. Book your consultation online or call your local office.
Start receiving your services
Your Client Care Coordinator will craft a tailored care plan and hand-select the most suitable and compatible care staff to deliver your services.
Did you know that My Care Solution is committed to continuity of care? Your care team will be small, nurse-led and meticulously selected to match your needs and preferences.
Now that you're on our books, you can receive as much or as little help as you need. Your Client Care Coordinator will be on-hand to help you arrange a schedule of services to help with your care needs.
Alternatively, you may simply wish to call us when you need us.
Get started with My Care Solution today