We are searching for aged care workers to join our team
We believe exceptional care begins with exceptional people, which is why we are always looking for passionate and like-minded people to join our team. We want our aged care workers to make a difference to the aged care industry by help older people live in the place where they are happiest – home.
Offering aged care jobs across the greater Adelaide metro area, the Adelaide Hills, and the Fleurieu Peninsula, there's opportunities for all to work for a company that cares. 
As a family-run business, our values inform everything we do. We cultivate an inclusive and welcoming care team that is supported in providing outstanding, individualised care to those in our communities.
We know that our aged care workers, or as we call them Caregivers, are at the hea
rt
of our business, and we believe it is essential to provide them with the support they deserve for the life-changing duties they perform every day. Our dedication to ensuring our workers are supported has been acknowledged through our placement on the 2023 AFR BOSS Best Places to Work List. 
You'll feel like part of the family right away, with a welcoming, supportive culture that recognises and celebrates achievements, above award pay rates, 24/7 on-call support, free access to a psychologist (for the whole family), employee discounts, and opportunities to expand your knowledge and skills.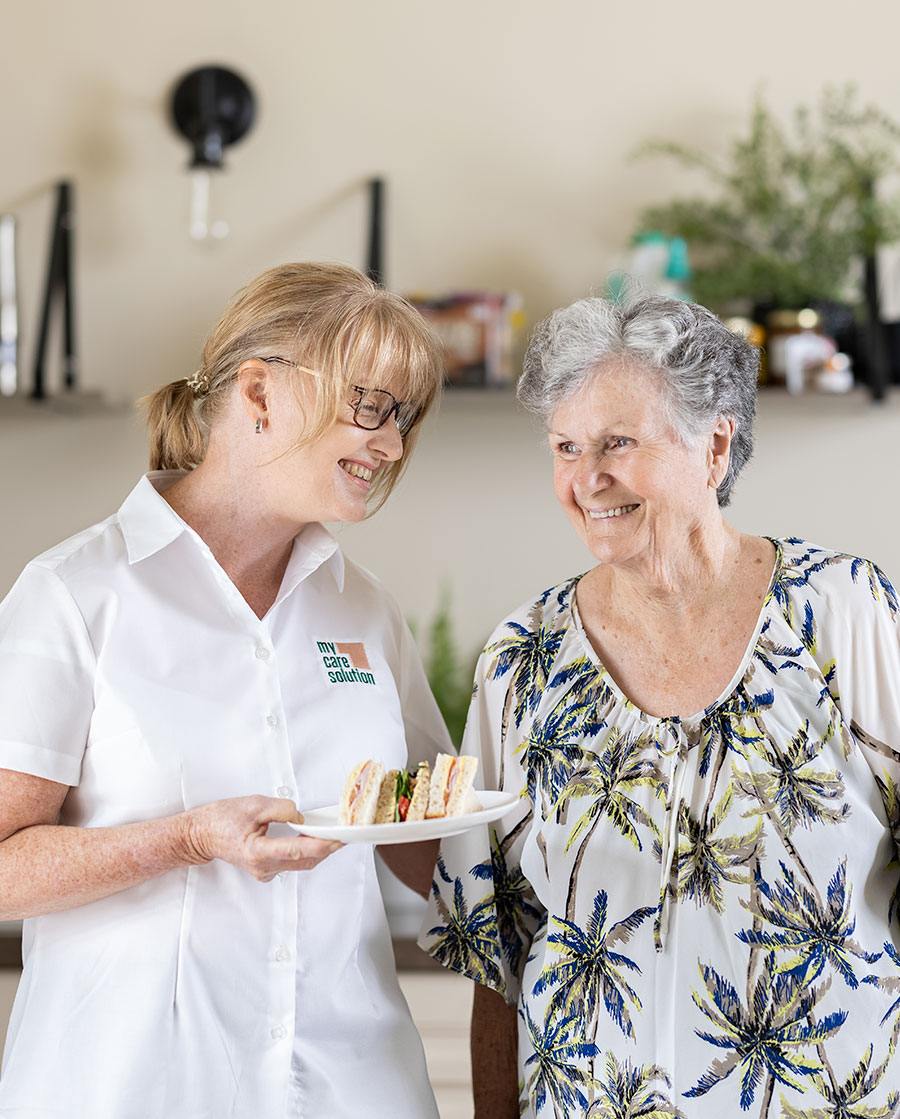 Our Caregivers help older people remain in their homes, maintain their independence, and strengthen their community connections.
Being a My Care Solution Caregiver is a pivotal role where the individual can be responsible for a variety of tasks to support our clients. 
These include:
Personal care (e.g., help with dressing, showering, and grooming)
Light domestic duties (e.g., vacuuming, mopping, and laundry)
Prompting and administration of medication
Social support
Running errands (e.g., grocery shopping, medication collection)
Assisted transportation
Overnight care
Specialist in-home care (e.g. dementia care)
Importantly, you will act as a vital link between My Care Solution and our clients. You will work with the dedicated coordination teams to ensure our client's required care needs and goals are achieved.
Why join My Care Solution?
We are firm believers in taking care of our caregivers. In fact, 99% of our Caregivers would recommend My Care Solution as an employer to a close family member or friend.
Our values: Humility, Responsiveness, Compassion, and Humour, guide us in every way we provide care. They define our culture and set the standard of conduct for our growing team. 
We recognise that our strength lies in the people we recruit, train and professionally develop. We offer many great opportunities and benefits to support and inspire you in the work you do, including:
Above award pay rates
Flexible work based on your consistent availability
24/7 on-call service to support you
Free access to psychologists, psychiatrists, and counsellors for you and your family
Industry-recognised training programs
Hundreds of company discounts
On-demand access to an employee wellbeing hub for access to online meditations, sleep sounds, exercises and wellbeing seminars
Regular social gatherings to get to know your peers
Genuine career pathways
At My Care Solution, our Caregivers are at the centre of all that we do. We prize a culture of warmth and inclusiveness, and you will always feel empowered and listened to.
A current Australian Drivers Licence
A current Police Check, or willingness to obtain one (Issued within the last 3 years)
A reliable and insured motor vehicle
A commitment to undertake in-house training
A strong command of English
Excellent verbal and written communication skills
Consistent availability to help us build up your client base
COVID-19 Vaccinations – minimum requirement of 2 vaccinations and 1 booster
Proof of your right to work in Australia (e.g. birth certificate, valid visa, Australian Citizenship Certificate)
Don't have a Certificate III in Individual Support? That's ok! If you have the right personal qualities and align with our values, we want you on our team.
My Care Solution may provide funding if you are interested in pursuing further education (terms and conditions apply). Alternatively, My Care Solution offers an intensive in-house training program that can equip you with the skills, knowledge, and ability to become an exceptional Caregiver.